Anibal Ballarotti for Progressive Dairy
Despite being designed and built to be robust and reliable, nitrogen tanks are more fragile than they appear. They need proper, consistent care to achieve a long service life. A malfunctioning tank can compromise the semen inventory and reduce fertility of your cows.
Nitrogen tank and equipment maintenance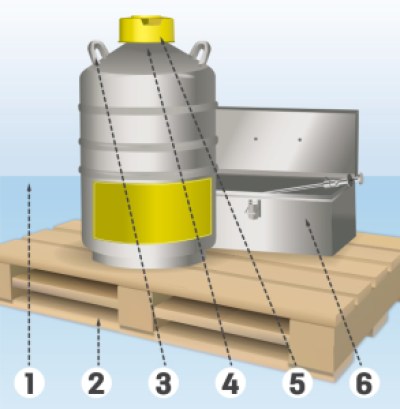 1. Keep semen tanks in a secure, clean and dry environment. They should also be easy to access for filling and conveniently located close to breeding cows.
2. A wooden pallet to raise the tank off the floor is highly recommended to keep it away from corrosive chemicals.
3. Minimise moving the tank, but when it is necessary, do it with both hands, taking care to avoid damage to the most fragile part, the neck tube.
4. Monitor the nitrogen level weekly to keep a minimum level of 3 to 6 inches. Note how frequently it needs to be topped up, as frequent refills can indicate a minor pinhole or crack that may otherwise escape detection. In such a case, you may see frost buildup in the outside top of the tank, commonly around the neck. Loss of nitrogen can compromise semen quality.
5. Check the cork. A malfunctioning cork can result in an increased nitrogen volatilisation of 20% to 30%. A shiny cork indicates excessive wear and should be replaced as soon as possible.
6. Store all the A.I. equipment in an easy-to-clean plastic or stainless steel box. Keep it closed when not in use. Clean and disinfect all equipment before returning it to the box.
This article is part of a series. Click here to read the other articles: "How to make breeding day more effective – Part 2: Improve semen handling" and "How to make breeding day more effective – Part 3: Set reasonable expectations for your breeder."
Anibal Ballarotti. Consultant – ABS Global.
Infographic: Infographic Illustration by Kristen Phillips.
Originally published on Progressive Dairy.