Andrew Leggott from White House Farm near Northallerton has never been afraid to adopt new technologies and to evolve his business. He was one of the first farms in the country to use female sexed semen in 2004, saw the benefits on the Genus ABS Reproductive Management System (RMS) ten years ago and moved into robots in 2007.
Now he has embarked on a major programme which will see him targeting to increase milk yield per cow to achieve the same farm output from 50 fewer cows and increase the income from beef calves. Central to his plans is the continued use of breeding and reproductive technologies with extensive use of sexed semen.
When he installed his first three Lely robots he was running 160 cows. Currently he has 410 all year round calving cows averaging 9500 litres at 4.05 fat and 3.2% protein, being milked through seven robots, but this is changing.
"We are putting up a new building which backs onto an existing shed," Andrew explains. "We will have two banks of three robots in the middle of the unit and will be reducing cow numbers to 360.
"I am hopeful that we can achieve efficiencies which will allow me to increase yields to around 12,000 litres per cow. This will mean we can sell the same annual volume but with reduced costs as we will have 12% fewer cows. Having one less robot will also give savings."
He is exploring all ways to drive efficiency and is looking at grants to fund robotic silage pushers and calf feeders. In addition, he is looking at ways to improve lighting in the buildings. Forage production will remain a priority with the intention of driving intakes. Close attention is also being paid to the quality of cows in the herd.
"While we were increasing herd numbers we had bred very few cows to beef as we needed the heifers. As a result we had fewer opportunities to increase genetic merit even though we started using sexed semen to increase heifer calves born. Now we can select the best cows, those that suit the system and then breed from them to improve the quality of the herd which will underpin achieving our objectives."

Andrew Leggott
"Andrew was one of the first farmers to use the original sexed semen technology when he wanted to maximise heifer production to allow herd expansion," explains Genus ABS Regional Business Manager Colin Lucas.
"He will also be looking closely at the heifers he keeps with the dual goals of increasing genetic merit and maximising beef calf value. Central to this will be the use of Sexcel sexed semen from Genus ABS to produce heifers from heifers, to increase genetic improvement and allow more beef cross calves to be produced."
Introduced to the UK market in 2017, Genus ABS Sexcel sexed semen is produced using unique, proprietary technologies that is gentle on the cells and delivers excellent conception rates. It has been stringently validated through ABS Real World Data®, which aggregates results from real customers with over 40 million cow records worldwide.
"He was keen to try Sexcel as it was the very latest product available and created using completely new technology. Sexcel is a breakthrough in sexed genetics and is different to traditional sexed products available. He started using Sexcel in September 2018 and has been extremely pleased with the results. The conception rates from Sexcel Silver are running at 73%.
"His relative conception rate which compares the conception rate from sexed semen to the conception rate achieved with conventional semen is running at 113%, showing the exceptional results achieved with Sexcel. Using Sexcel is giving more options with beef and reducing the number of Holstein bull calves," Colin continues.
High fertility was also important and RMS meant Andrew achieved high pregnancy rates and getting plenty of calves on the ground.
They started RMS initially because labour was becoming an issue and Andrew saw the need to improve fertility, particularly so that he would have a steady flow of calvings to optimise robot output by increasing visit per cow.
Richard Birkley has been the RMS technician for all the 10 years they have been on the service and RMS is now used on the heifers too. Pregnancy rate is currently running at 26% and Andrew believes RMS will continue to be a foundation of the business.
"With fewer cows we still need to optimise robot output and the foundation of this is calvings. If I want to maintain total output and increase production per cow, high levels of reproductive performance is essential."
Andrew expects the move to fewer cows will bring benefits over and above genetic improvement. He says that the new robots will allow two different concentrates to be fed which will increase flexibility. The herd is TMR fed with the base ration set at M+23 litres and having a choice of two concentrates will benefit fresher cows and reduce costs for late lactation animals.
Moving the cows into new accommodation will also free up space for youngstock, particularly the younger heifers which will help improve their performance and ensure they continue to calve at no older than 24 months.
The plan is to genomically test the herd and to only breed replacements from the top 25% of females. Working with GMS evaluator Thomas Tiffin, Andrew uses the Genus ABS GMS programme to rank the females in the herd. A specific breeding goal is to improve milk constituents. He is currently using Acheiver, Outback and Yoda 3, all exceptional high PLI bulls
"Once the best cows have been ranked and the best mating identified the focus can turn to beef which will become an important income stream" Colin continues.
Although beef income will be important, Andrew Leggott's priority is to get cows calved down successfully and milking so he pays particular attention to calving ease when choosing beef bulls.
Heifers are served to Aberdeen Angus while cows are crossed with British Blue. All beef calves will be sold BVD tested at three weeks old. Any PI calves will not leave the farm.
"We are looking to establish a supply chain for beef calves, ideally achieving a win:win with calves born from sires with good calving ease but good growth and carcase characteristics," Andrew continues. "Ideally all calves will be sold direct to a buyer.
"If we can achieve the objectives of higher yield per cow from fewer cows to maintain output while increasing genetic merit of the cows we have and boosting beef calf returns, I am confident we will have a more robust system which will be important as we face increasing economic and political uncertainty."
White House Performace
| | |
| --- | --- |
| Cows in herd | 410 reducing to 360 |
| Milk yield per cow | 9500 litres |
| 21 day Pregnancy rate | 26% |
| Conception rate with Genus ABS Sexcel | 73% |
| Relative conception Rate* | 113% |
*Relative Conception Rate compares conception rate from sexed semen to that achieved with conventional semen.
Related Products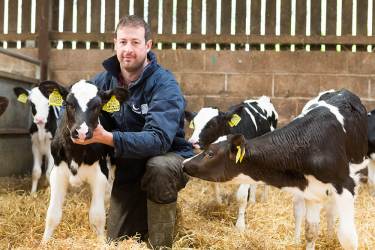 Sexcel®
Sexcel® Sexed Genetics – Make your heifer replacement from your best cows. A unit of semen brings no real value to a dairy farmer unless it results in the cow pregnant with a female calf. A healthy heifer needs to be born and only then can genetic progress be seen. That's where the value is […]
Learn More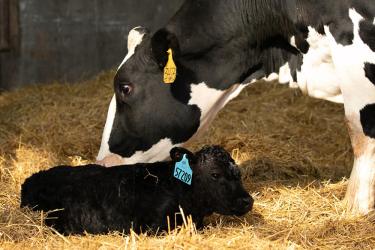 Beef InFocus™
Beef on Dairy, but not as you know it.ABS Beef InFocus™, powered by NuEra Genetics™, delivers proven and reliable beef genetics for the dairy producer to maximise calf crop value while driving beef supply chain efficiency. Tailored Beef Genetics for Dairies Beef InFocus sires are specifically created or selected for dairy cows to maximise dairy […]
Learn More