Live System Acti-Maize
What is Live System Acti-Maize?
Live System Acti-Maize was developed from our original Live System product and retains the 'brew-up' feature.
Once the 'L54' bacteria has been activated in warm water they are applied to the forage and a super fast fermentation will take place.
Live System Acti-Maize will promote a fast fermentation with the bias heavily toward lactic acid production as opposed to other less palatable acids.
Easy to use and ready for application in just a few hours
Add water at 35C and cover, then just two and a half hours later Acti-Maize is ready to use.
Acti-Maize is available in packs to treat 250 tonnes of Maize forage.
Acti-Maize delivers 1,000,000 bacteria onto each gram of fresh forage.
Acti-Maize Instant
What is Acti-Maize Instant?
Acti-Maize Instant contains L54 lactic acid producing bacteria that are applied to the fresh maize as it is harvested at a rate of 1 million bacteria per gram of forage.
It was developed from the 'brew-up' Live System Acti-Maize version, but this Instant format is easier to use. All you have to do is dissolve the contents of two sachets in water and the product is then ready to go.
Convenient to use. Just add water and go!
Instant is available in pack sizes to treat 100 tonnes of forage (each pack contains 2 x 50 tonne sachets).
Delivered direct to your farm.
Instant is approved by the Organic Farmers and Growers for use in organic systems.
Related Products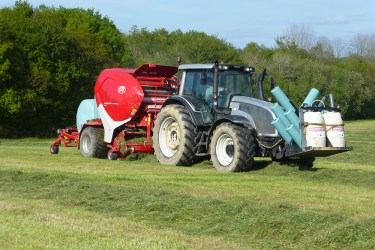 Powerstart®
Accesses all the sugars available in grass Grass contains two types of sugar – simple and complex. Glucose, Fructose and Sucrose are simple sugars and Fructan is a complex sugar. In normal conditions over 50% of the sugars in grass are complex and in poor conditions they can make up to 85%. The bacteria in […]
Learn More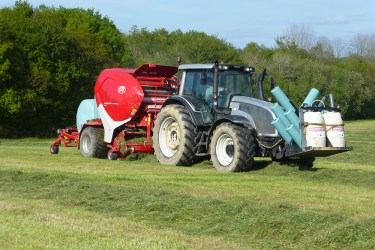 Powerstart®
Accesses all the sugars available in grass Grass contains two types of sugar – simple and complex. Glucose, Fructose and Sucrose are simple sugars and Fructan is a complex sugar. In normal conditions over 50% of the sugars in grass are complex and in poor conditions they can make up to 85%. The bacteria in […]
Learn More